Honey Dragon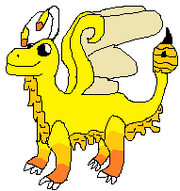 ---
"Honey dragons live together in huge groups called hives. They are usually gentle (unless you threaten their hive). Honey dragons are also strangely attracted to Flower dragons."
---
More info
Available
Level 20
Habitat
Lightning, Plant, and Fire
Incubation Time
2 hours
Breeding Time
2 hours
Positive
Lightning, Plant, Fire
Negative
Water, Metal, Cold
Buying Price
1,000
Selling Price
5,000
Hatch
10,000
Ad blocker interference detected!
Wikia is a free-to-use site that makes money from advertising. We have a modified experience for viewers using ad blockers

Wikia is not accessible if you've made further modifications. Remove the custom ad blocker rule(s) and the page will load as expected.