| | | |
| --- | --- | --- |
| | This dragon already exists. Please don't flag this page for deletion, as the fanon dragon was made before the real one. | |
Mistletoe Dragon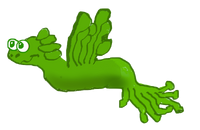 ---
"The Mistletoe Dragon is a sign of a wonderful winter jolly-ness. In the wild, it relies on a Tree, Willow, or Evergreen Dragon for its food and shelter. Tradition has it if it raises it wings or tail above an unmarried witch and wizard, the two must kiss."
---
More info
Available
Level 16
Habitat
Plant, Cold, Air
Incubation Time
12 hours 25 minutes
Breeding Time
12 hours 25 minutes, 21 hours 12 minutes upgraded
Positive
Plant Boost, Cold Boost, Air Boost
Negative
Metal Boost, Fire Boost, Earth Boost
Buying Price
800
Selling Price
700,000
Hatch
1,225,013
Ad blocker interference detected!
Wikia is a free-to-use site that makes money from advertising. We have a modified experience for viewers using ad blockers

Wikia is not accessible if you've made further modifications. Remove the custom ad blocker rule(s) and the page will load as expected.