Sweet Dragon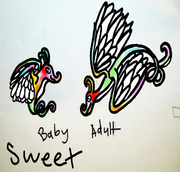 ---
"The playful, energetic, funloving nature of the Sweet Dragons attracts visitors from all over the Vale. The witch Sugzari who discovered it thought it was a Rainbow element dragon at first because of its colorful scales. Then, while she was eating a sweet treat, a Sweet Dragon snatched it out of Sugzari's hand. The witch called the new dragon species Sweet Dragons."
---
More info
Available
level 14
Positive
Light
Negative
Dark
Buying Price
1,200
Selling Price
1,500,000
Hatch
2,000,000
The Sweet Dragon could be bred with two dragons, in any order, including the Candy and Light elements.
References
Edit
The witch Sugzari is the word Sugar, but with added letters.
Ad blocker interference detected!
Wikia is a free-to-use site that makes money from advertising. We have a modified experience for viewers using ad blockers

Wikia is not accessible if you've made further modifications. Remove the custom ad blocker rule(s) and the page will load as expected.