Undead Dragon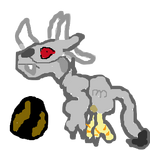 ---
"The Undead Dragon was only recently found by a young lad by the name of Perniko. He stumbled across a cave now known as the Dull Crevice, and crept inside. After a few minutes, he stumbled across a dragon egg. He picked it up and brought it to the eldest wizards in all the land. They tested it and made the first tame Undead Dragon."
---
More info
Available
Level 15
Habitat
Undead
Incubation Time
24 hours
Breeding Time
24 hours, 19 hours upgraded
Positive
Undead Boost
Negative
N/A
Selling Price
500,000
Hatch
1,500,000
Appearance
Edit
The Undead Dragon has a light black body with a pale brown underside. It has two small arms as a baby that turn into big, gorilla-like arms as an adult that appear to hang limply from its body. Its head is the shape as the Metal Dragon's head and it's eyes are red. It's legs are skinny towards the top of its body and get larger as it nears it's feet. It's tail hangs and drags on the ground.
The Undead Dragon's egg looks exactly like the Plant Dragon's except the backround is black instead of white and the stripes are brown instead of green.
Earning Rates
Edit
Level 1: 12 coins per minute, Level 10: 112 coins per minute, Level 20: 230 coins per minute.
Undead Boost (Plus)- 7 more

s each level
Ad blocker interference detected!
Wikia is a free-to-use site that makes money from advertising. We have a modified experience for viewers using ad blockers

Wikia is not accessible if you've made further modifications. Remove the custom ad blocker rule(s) and the page will load as expected.